Canonical has announced the release of first tablet running linux OS Ubuntu. This 10.1-inch tablet runs the Ubuntu touch interface, but can also switch over to the full Ubuntu experience when you connect a keyboard and mouse, or power a larger display for a full desktop experience. It runs both a mobile-based full touch interface and a true PC experience from a single smart device. This gives device manufacturers the opportunity to create true device convergence and bring the full power of personal computing to modern touch-based mobile devices.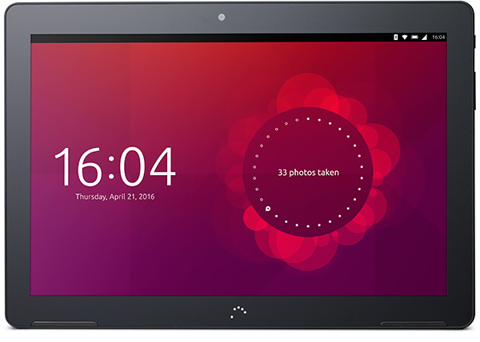 The Aquaris M10 Ubuntu Edition offers Hundreds of apps and scopes in the Ubuntu App Store. The tablet "side stage" feature allows you to view two different applications on the same screen, with each intuitively optimised for available tablet screen space.
Tech specs
10.1 inch multi-touch screen
MediaTek Quad Core MT8163A processor up to 1.5GHz
High capacity Li-Po battery (7280mAh)
Full HD (1080p) camera for super-sharp video recording
2GB RAM and 16GB internal memory
MicroSD slot for extra storage (up to 64GB)
8 megapixel rear camera with autofocus and 5 megapixel front camera
Frontal speakers
Micro HDMI slot
Dimensions: 246 x 171 x 8.2mm
Lightweight at only 470g
Attaching a keyboard and mouse to the Aquaris M10 will turn it into the familiar Unity desktop UI. All the apps and features of Ubuntu OS expectede to be there, and a microHDMI connector lets you get the UI up on a larger display. The tablet will run desktop software like Firefox, GIMP, and LibreOffice.
It hasn't announced a price, but device launch approaches in March via BQ's online store.
Source: Canonical