There is so much going on in this picture – taken by astrophotographer Giuseppe Petricca — it's hard to know where to start. Of course, there's the famous Leaning Tower in Pisa, Italy. But one evening earlier this week, a "beautiful encounter" happened, said Petricca.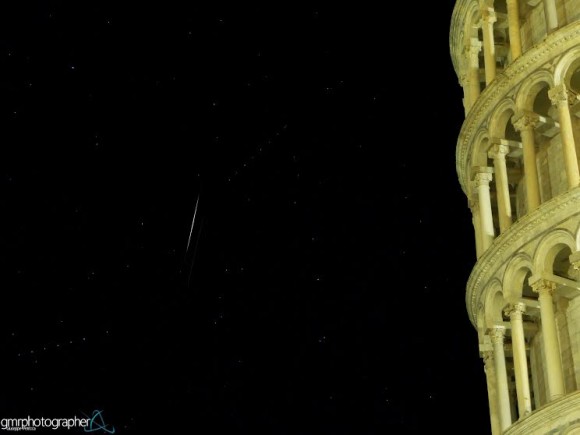 The Leaning Tower of Pisa is photographed with two Iridium Flares, airplanes and stars among the dark sky background. Credit and copyright: Giuseppe Petricca.
"A wonderful -7.5 magnitude Iridium Flare, clearly visible even in the light polluted sky of the city center, photographed from the famous Miracle Square, with the Leaning Tower as a special guest," he said. "But I was lucky, because two airplanes crossed the portion I was photographing, and a second Iridium satellite was really near the bright one, but this second one did not create a flare."
Also visible in the background is the dim but beautiful Ursa Minor, culminating with the North Star, Polaris, high corner in the top left corner.
Wow.
The picture is an 8 second exoposure, f4.0, ISO 100 taken with a Nikon Coolpix P90 Bridge on a tripod.
"I was planning to do this shot for two or three days, and luckily the clouds gave way to clear sky just in time," said Petricca.
Source: Universe Today, story by Nancy Atkinson