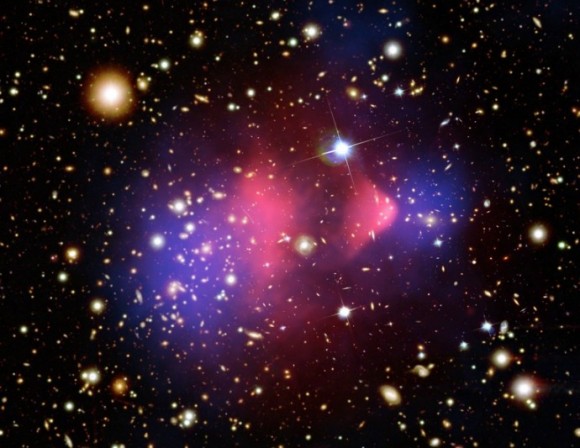 Dark matter in the Bullet Cluster. Otherwise invisible to telescopic views, the dark matter was mapped by observations of gravitational lensing of background galaxies. Credit: X-ray: NASA/CXC/CfA/ M.Markevitch et al.; Lensing Map: NASA/STScI; ESO WFI; Magellan/U.Arizona/ D.Clowe et al. Optical: NASA/STScI; Magellan/U.Arizona/D.Clowe et al.;
Roughly eighty percent of all the mass in the Universe is made of dark matter – a mysterious invisible substance responsible for the structure of galaxies and the patterns of the cosmos on the very largest scales. But how do we know that?
Astronomical images are beautiful, but that's not their primary purpose from a scientist's point of view. How can we take those images and infer things about what they are?
We only know of one planet harboring life: Earth. But that doesn't mean we don't know anything about the possibility of life elsewhere in the cosmos. How can we infer things about possible alien organisms when we can't see them (yet)?
If you're curious about those and other classes, CosmoAcademy — a project from the CosmoQuest educational and citizen-science group — could be for you. We're offering three new online classes: Introduction to Dark Matter, Introduction to Astronomy via Color Imaging, and Life Beyond Earth: Introduction to Astrobiology.
These classes are short, four-hour courses designed for curious but busy people. All CosmoAcademy classes are offered online through Google+ Hangouts, a type of video chat. Part of the reason we do that is to limit the size of courses to eight students. That allows us to provide individual instruction in a way no other kind of online class is able to do – you aren't a faceless student, but part of every discussion. In fact, if there's a topic you want to discuss, there's a good chance your instructor will take the time to talk about it.
Source: https://www.universetoday.com/