On the cusp of the 10th anniversary since launching to the Red Planet, NASA's long lived Opportunity rover has discovered a habitable zone on Mars that once coursed with 'drinkable water' and possesses the chemical ingredients necessary to support a path to potential Martian microbes.
At a rock called "Esperance", Opportunity found a cache of phyllosilicate clay minerals that typically form in neutral, drinkable water that is not extremely acidic or basic.
The finding ranks as "One of my personal Top 5 discoveries of the mission," said Steve Squyres of Cornell University, Ithaca, N.Y., principal investigator for NASA's rover mission at a media briefing.
And despite her advancing age Opportunity remains healthy after surviving in excess of an incredible 3333 Sols, or days, trekking across the alien and ever harsh Martian plains.
Furthermore the intrepid robot just sat sail on a southerly course for a new destination called "Solander Point" where researches hope to find more even evidence of habitable environments since they already spotted deeper stakes of ancient rocks transformed by water eons ago.
After weeks of trying, the rover deployed the robotic arm to drill at a sweet spot inside "Esperance" and collected convincing X-Ray spectroscopic data in the area she just investigated in May 2013 around the eroded rim of giant Endeavour Crater.
"Esperance is rich in clay minerals and shows powerful evidence of water alteration," Squyres elaborated.
"This is the most powerful evidence we found for neutral pH water."
"Clay minerals only tend to form at a more neutral pH. This is water you could drink," Squyres gushed.
These finding represent the most favorable conditions for biology that Opportunity has yet seen in the rock histories it has encountered after nearly a decade roving the Red Planet.
"This is water that was much more favorable for things like pre-biotic chemistry – the kind of chemistry that could lead to the origin of life," Squyres stated.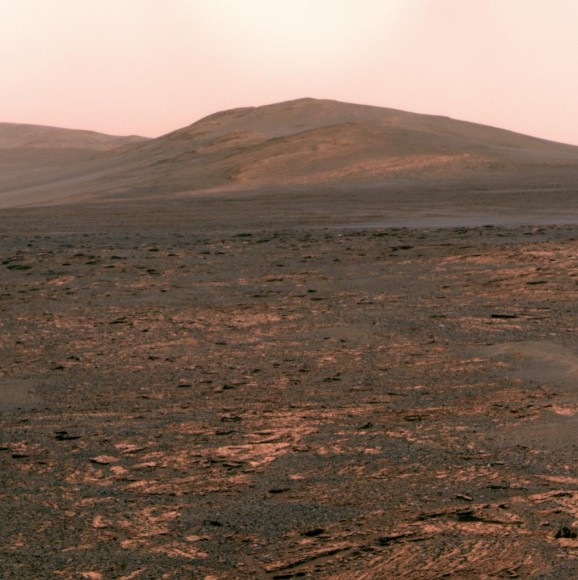 Opportunity snapped this color view of 'Solander Point' on June 1, 2013 (Sol 3325) looking south to her next destination which she should reach in August. The solar powered robot will spend the upcoming 6th winter season on northerly tilted slopes exploring the thick strata of ancient rocks. Credit: NASA/JPL-Caltech/Cornell Univ./Arizona State Univ.
Esperance is unlike any rock previously investigated by Opportunity; rich in aluminum, which is strongly indicative of clay minerals, perhaps like montmorillonite.
Most rocks inspected to date by Opportunity were formed in an environment of highly acidic water that is extremely harsh to most life forms.
"If you look at all of the water-related discoveries that have been made by Opportunity, the vast majority of them point to water that was a very low pH – it was acid," Squyres explained.
Esperance was found on 'Cape York', a hilly segment of the western rim of Endeavour crater which spans 14 miles (22 km) across. The robot arrived at the edge of Endeavour crater in mid-2011 and will spend her remaining life driving around the scientifically rich crater rim segments.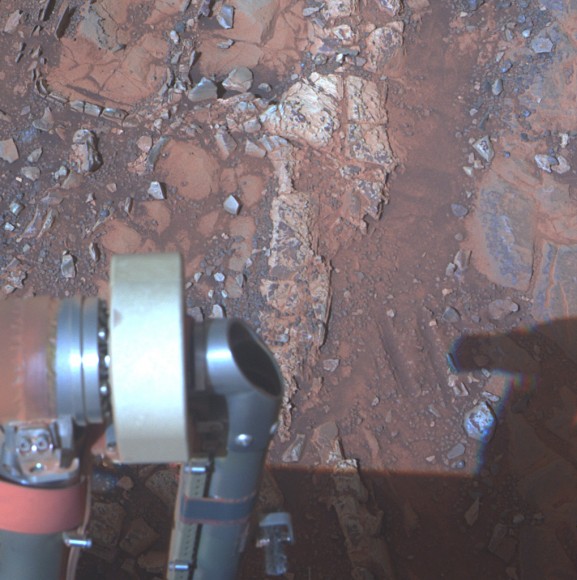 The pale rock in the upper center of this image, about the size of a human forearm, includes a target called "Esperance," which was inspected by NASA's Mars Exploration Rover Opportunity. Data from the rover's alpha particle X-ray spectrometer (APXS) indicate that Esperance's composition is higher in aluminum and silica, and lower in calcium and iron, than other rocks Opportunity has examined in more than nine years on Mars. Preliminary interpretation points to clay mineral content due to intensive alteration by water. Credit: NASA/JPL-Caltech/Cornell/Arizona State Univ
NASA's new Curiosity rover also recently discovered clay minerals and a habitable environment at Gale Crater – stemming from a time when Mars was warmer and wetter billions of years ago.
Over time Mars became the cold and dry place it is today. Scientists hope the rovers provide clues to Mars dramatic transformation.
The solar powered rover is now driving as quick as possible to reach the northerly tilled slopes of 'Solander Point' in August, before the onset of the next Martian winter.
'Solander Point' offers a much taller stack of geological layering than 'Cape York.' Both areas are raised segments of the western rim of Endeavour Crater.
"There's a lot to explore there. In effect, it's a whole new mission," said Ray Arvidson, the mission's deputy principal scientific investigator from Washington University in St. Louis, Mo.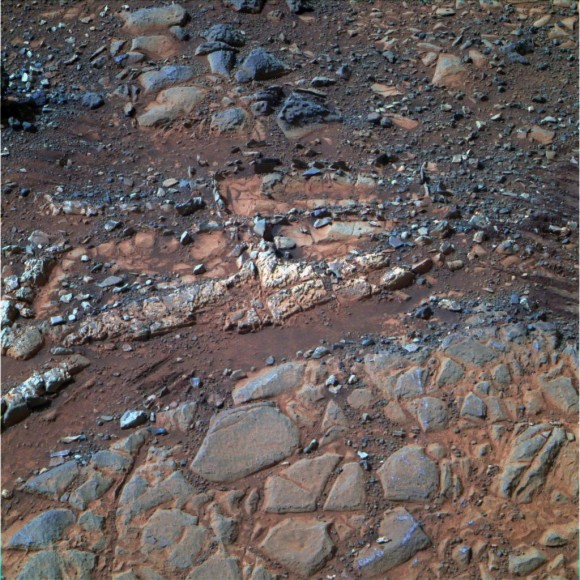 'Esperance' Target Examined by Opportunity in May 2013. The pale rock called "Esperance," has a high concentration of clay minerals formed in near neutral water indcating a spot favorable for life. Credit: NASA/JPL-Caltech/Cornell Univ./Arizona State Univ.
Opportunity and her twin "Spirit" were launched to Mars on planned 90 day missions.
Both rovers have far exceeded everyone's wildest expectations. Spirit endured more than 6 years inside Gusev Crater until succumbing to the bone chilling Martian winter in 2011.
Opportunity has lasted more than 37 times beyond the three month "warranty".
"This is like your car not lasting 200,000 miles, or even a million miles. You're talking about a car that lasts 2 million miles without an oil change," Callas said. "At this point, how long Opportunity lasts is anyone's guess."
"Remember, the rover continues to operate in a very hostile environment, where we have extreme temperature changes every day, and the rover could have a catastrophic failure at anytime," said John Callas, of NASA's Jet Propulsion Laboratory, Pasadena, Calif., project manager for the Mars Exploration Rover Project.
"So every day is a gift."