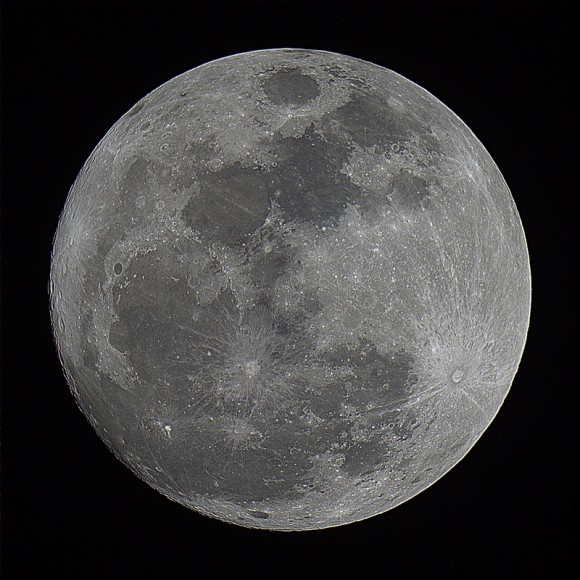 A 99% illuminated Moon within 24 hours of Full. Image Credit: Paul Cotton, Lincolnshire, England.
So, did last night's Full Wolf Moon seem a bit tinier than usual? It was no illusion. Last night's Full Moon was the most distant for 2014, occurring just a little under three hours after apogee.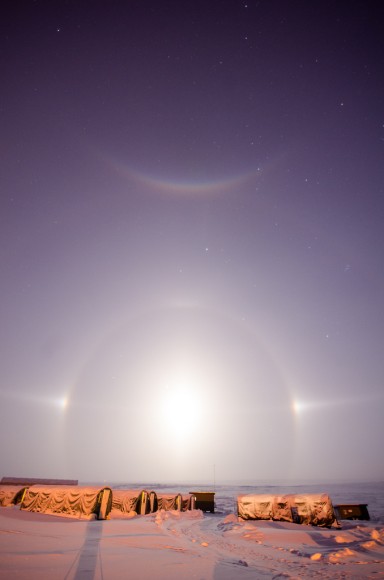 The Full Moon, a "Moon Dog" halo, and a rare parhelic (or do you say Palunic?) arc as seen from North Slope Borough County, Alaska. Credit-Jason Ahrns.
Sure, the Moon reaches apogee every lunation, at a distance nearly as far.  In fact, the Moon at apogee can be as far as 406,700 kilometres distant, and last night's apogee, at 406,536 kilometres, is only the second farthest for 2014. The most distant apogee for 2014 falls on July 28th at 3:28 Universal Time (UT) at just 32 kilometres farther away from our fair planet at 406,568 kilometres distant.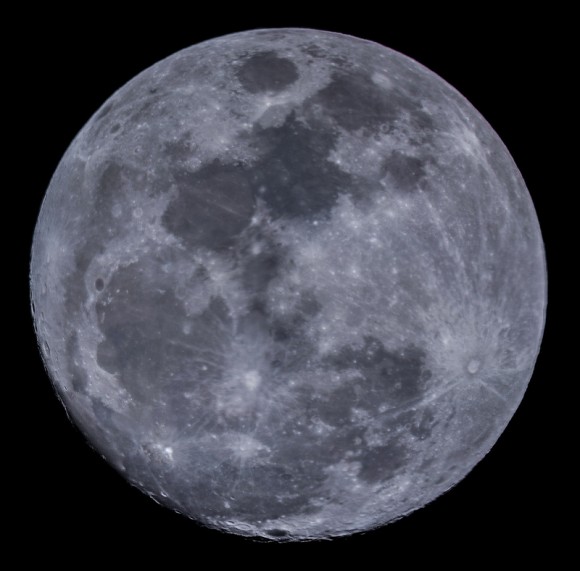 A 20 image composite shot using a Canon 60Da camera and a a 10″ Newtonian telescope. Credit-Stephen Rahn.
What made last night's MiniMoon special was its close proximity in time to the instant of Full phase. The July 2014 apogee, for example, will occur just a day and four hours from New phase.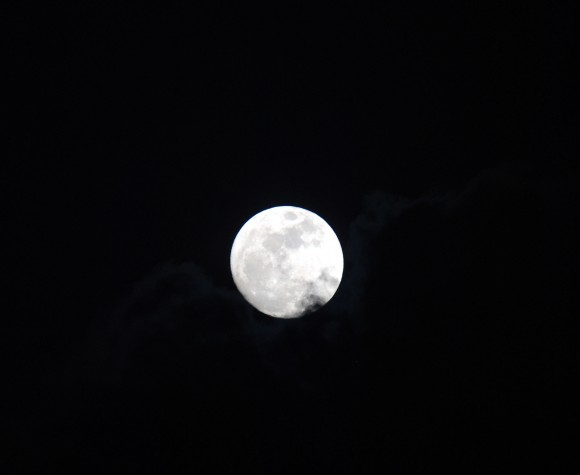 The 2014 MiniMoon rising behind clouds from Hudson, Florida. Photo by author.
Of course, it isn't the Moon that's doing the shrinking, though you'd be surprised the stuff we've seen around ye ole Web even on reputable news sites over the past week. The variation of the apparent size of the Full Moon does make for an interesting study in perception. The Moon varies in size from apogee to perigee from about 29.3' across to 34.1'. This is variation amounts to 14% in apparent diameter.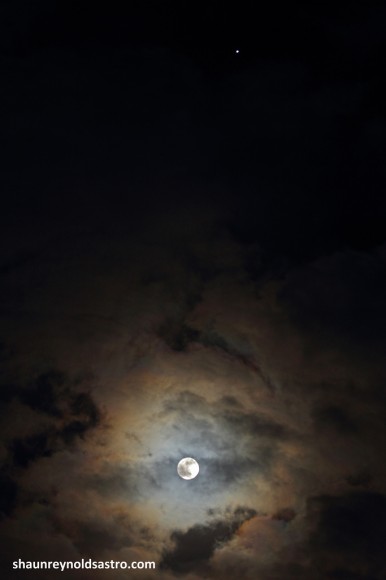 The Full MiniMoon, clouds, and Jupiter. Credit– Shaun Reynolds (@shaunreylec), Bungay UK.
Here's an interesting challenge that you can do for a one year period, requiring just a working set of eyes: observe the Full Moon for 12 successive lunations. Can you judge which one was the "SuperMoon" and which one was the "MiniMoon" without prior knowledge?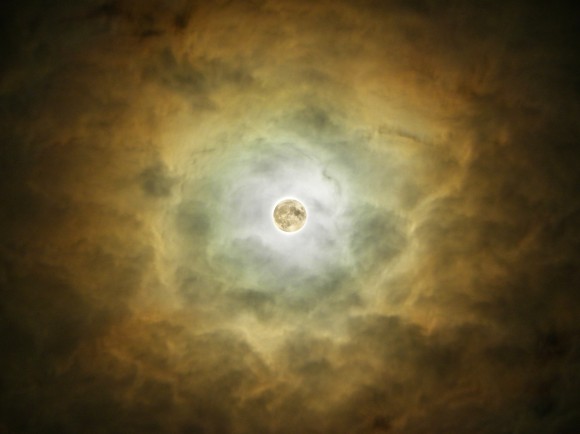 A "MiniMoon Nebula…" The Full Moon illuminating foreground clouds. The HDR visualization of the Moon was added for context. Taken with a tripod mounted Nikon P90 Bridge camera. Credit: Giuseppe Petricca of Sulmona, Abruzzo, Italy.
And as you can see, we also got plenty of pictures here at Universe Today from readers of the Mini-Moon from worldwide.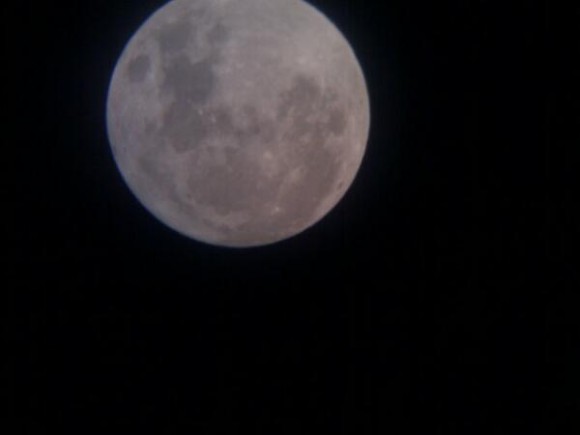 The MiniMoon shot using a mobile phone held up to the eyepiece of a telescope. Credit-Andrew Millarkie (@Millarkie) Glasgow, Scotland.
The rare occurrence of an "Extreme-MiniMoon" — or do you say "Ultra?" — also sparked a lively discussion about the motion of the Moon, how rare this event is, and when it was last and will next be surpassed. A fun online tool to play with is Fourmilab's Lunar Apogee and Perigee Calculator. Keep in mind, the motion of the Moon is complex, and accuracy for most planetarium programs tends to subside a bit as you look back or forward in time. The distances used in Fourmilab's calculations are also geocentric, accounting for the center-to-center distance of the Earth-Moon system.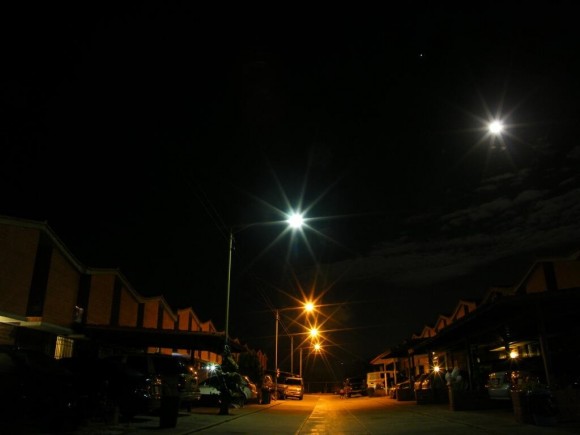 The MiniMoon versus streetlights as seen from Nueva Casarapa, Venezuela. Credit: Jose Mauricio Rozada (@jmrozada)
Suffice to say, this year's Full MiniMoon was the most distant for several decades before 2014 or after.
Anthony Cook of the Griffith Observatory notes that JPL's Horizons web interface gives a max distance for the Moon of 406,533 kilometres at 1:35 UT earlier today, 3 hours and 19 minutes prior to Full.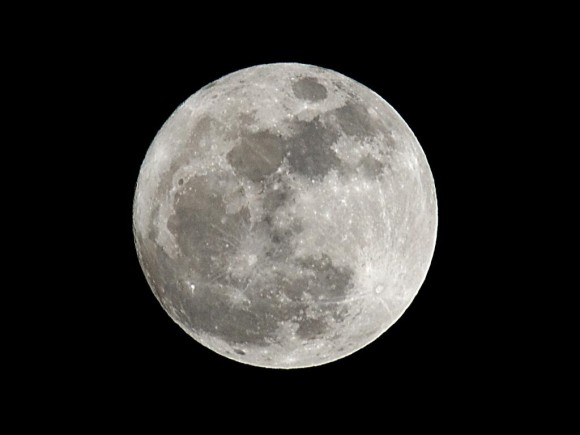 The Full MiniMoon glimpsed between clouds as seen from central Illinois. Credit-Matt Comerford, (@kb9uwu)
The next closest spread of apogee versus perigee occurs on November 18th, 1994 at 1 hour and 51 minutes apart, and 2014's Mini-Moon won't be surpassed in this regard until May 13th, 2052. Looking at the distances for the Moon on these dates using Starry Night, however, we get an slightly closer occurrence of 406,345 kilometres for 1994 and 406,246 kilometres for 2052.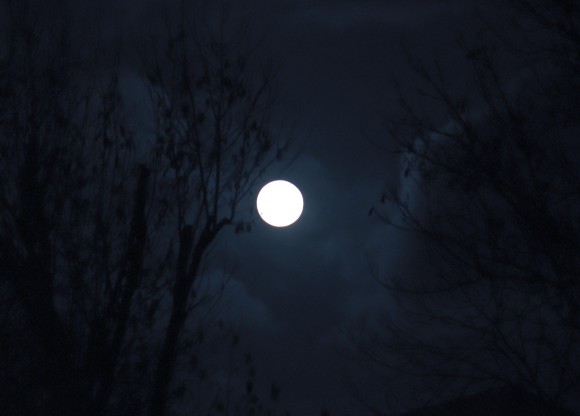 The Full MiniMoon rising behind a stand of trees. Credit– Sculptor Lil.
And to top it off, the 1994 Mini-Moon was during a partial penumbral eclipse as well… we'll leave that as a homework assignment for the astute readers of Universe Today to calculate how often THAT occurs. It should be fairly frequent over the span of a century, as the Moon has to be at Full phase for a total lunar eclipse to occur.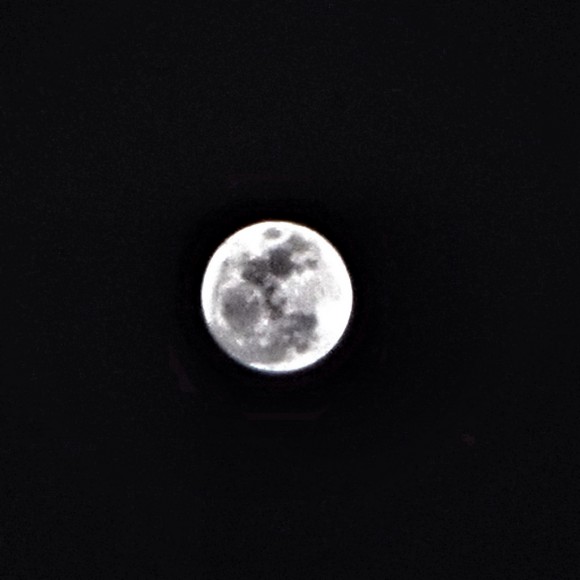 The MiniMoon as captured by Manish Agarwal (@iManishAgarwal) from Rajasthan, India.
Looking over a larger span of time, @blobrana notes on Twitter that closer occurrences of apogee versus Full Moon with the same approximate circumstances as 2014 also occurred on October 29th 817 AD (with a 1 hour and 38 minute difference) and won't occur again until December 20th, 2154. If research can prove or disprove that these events were even more distant, then the 2014 Extreme MiniMoon was a millennial rarity indeed…
Source: http://www.universetoday.com
Comment this news or article