When Comet ISON entered its zombie stage a few weeks ago, the effects were not only felt in the astronomical community, but also on astronomy tourists as the comet faded from the view of amateurs.
German company "Eclipse-Reisen" (Eclipse Travel) had to make a last-minute change in plans for a Dec. 8 flight for some 75 tourists planning to observe ISON, which morphed into a travelling dust blob after skimming too close to the sun in late November. Fortunately, Comet Lovejoy is still a strong astronomical object, providing an alternate thing to watch.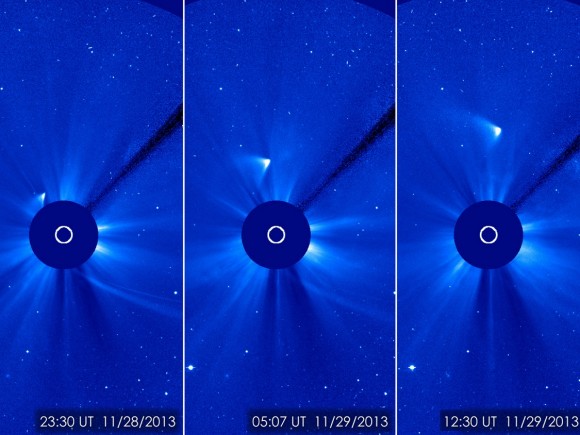 Although Comet ISON briefly brightened after its closest encounter with the sun in November 2013, these days astronomers are classifying it more as an ex-comet of dust and debris. Images from the Solar and Heliospheric Observatory. Credit: ESA/NASA/SOHO/GSFC
"Most of the passengers weren't disappointed. They were more excited to see something new. Only a few journalists cancelled the flight. All photographers and experts fully understood the situation," a statement from Air Partner to Universe Today said. (The spokespeople were German-speaking, requiring a translation by another party.)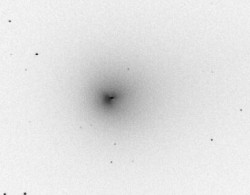 Negative image taken Nov. 14 of Lovejoy's nucleus and dust fan. Credit: Dr. P. Clay Sherrod
"Comet Lovejoy is no less spectacular and still very exciting like ISON and they were pleased to see it, actually. Although Lovejoy is less bright than ISON, it is weaker by four size classes, its tail is smaller and pale and Lovejoy flies farther past the Earth and the Sun."
The company had to ask for permission to alter its flight path, and inform the passengers of the last-minute change, all in a few days, but officials added that the flight went off without a hitch.
You can read more information about the company (in German) on its website. In 2014, it plans to run a flight to observe auroras over Iceland, among others.
Source: Universe Today, story by Elizabeth Howell
Comment this news or article