While some of you will no doubt be heading to the theaters to see the new release of "Gravity," for those that want to stay in for the weekend, here's the perfect short film. The National Radio Astronomy Observatory (NRAO) has released a new 24-minute film about the recently renovated Karl G. Jansky Very Large Array (VLA) radio telescope. The film is narrated by Academy Award-winning actress Jodie Foster, star of the 1997 Warner Brothers film, "Contact," which was filmed in part at the VLA.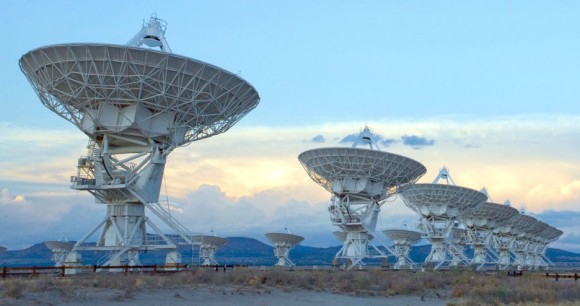 The Very Large Array, one of the world's premier astronomical radio observatories, consists of 27 radio antennas in a Y-shaped configuration 50 miles west of Socorro, New Mexico. Each antenna is 82 feet (25 m) in diameter. The data from the antennas is combined electronically to give the resolution of an antenna 22 miles (36 km) across. Image courtesy of NRAO/AUI and NRAO
"In 'Contact,' I played the role of an astronomer using the VLA," Foster said. "In narrating this new film for the VLA Visitor Center, I have the privilege of introducing tomorrow's scientists, technicians, and engineers to the amazing complexities of this great telescope, and to the wonders of the universe that it reveals."
From NRAO's press release:
Titled "Beyond the Visible," the film tells the behind-the-scenes story of the operation and scientific achievements of the VLA, which has been at the forefront of astrophysical research since its dedication in 1980. Spectacular ground and aerial footage of the iconic radio telescope is augmented by first-person interviews with staffers who keep the telescope working and scientists who use it to discover exciting new facts about the universe. The film also depicts many of the technical tasks needed to keep the array functioning at the forefront of science.

"Since the last film for the Visitor Center was produced in 2002, we've completed a massive technological upgrade that turned the VLA into a completely new and vastly more powerful tool for cutting-edge science," said Dale Frail, NRAO's Director for New Mexico Operations. "It was time to update the story we tell our visitors," he added.
The film replaces an earlier video that ran at the VLA Visitor Center auditorium, which is visited by some 20,000 people annually. You can't currently go to the Visitor Center to see the new film at the moment, however, because of the US federal government shutdown. So, watch it here. Hopefully the shutdown will be resolved soon so that people can resume their visits to the VLA.
Source: Universe Today, story by Nancy Atkinson
Comment this news or article